Our  original Smoked Chicken Salad recipe is popular as it's easy to do and low fat, but we depend heavily upon a barbecued whole chicken for the rich, smokey taste.
We wanted to create something similar for our sous vide chicken breasts, but  less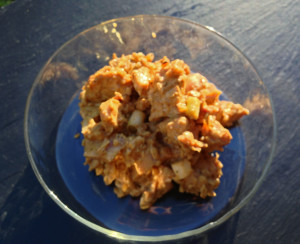 smokey and with more varieties of spices and seasonings while retaining low fat ingredients.
While sous vide cooking and smoking are a beautiful marriage, we depend largely on cold smoking for sous vide, and during the hot Sacramento summers the ambient air temperature is too high to cold smoke for extended periods, and at food safe temperatures. Hot smoking largely defeats the purpose of sous vide–to deliver a silky smooth, tender meal that is perfectly and uniformly cooked throughout by using longer cook time and low temperature cooking. So, our best option to get that smoke flavor we love was dusting off the bottle of liquid smoke, blasphemous as that may be to some purists.
With some experimenting, a mild but character-rich curry chicken salad was our outcome.
Ingredients
3-4 large, plump, fresh boneless, skinless chicken breasts, about 20-25mm thick.

1 tablespoon Wright's Hickory Liquid Smoke ( use ONLY Wrights as their product is one of the few with all natural distilled smoke concentrate with sugar and flavor additives).
1/4 cup sea or kosher salt
1/4 cup white sugar
2 tbs. molasses
olive oil
a good low sodium chicken rub.( NOT Montreal Chicken Rub, it's too strong with too much salt. I just threw a large jar away.)
1/4 cup Dijon mustard
1/4 cup bbq sauce, thin and vinegar rich like our OHY BBQ Sauce
1 tbs. Mayonnaise (this is a diet cheat so it's optional)
1 diced white onion (substitute dehydrated onions if preferred)
2 tbs. diced garlic
6 green onions, diced
1/3 fresh lemon, squeezed for juice
1 1/2 tbs. curry powder
1 tbs. Mango Chutney
Optional:  sliced grapes, raisins, diced red apple. they all work well
Brining the Chicken Breasts
We always brine poultry, including chicken, turkey, duck, and pheasant. Brining helps the meat retain moisture to make it more tender, improves the taste and allows us to add our own flavorings, and can aid in some bacterial growth prevention from the salt content.
If you don't want to brine, but are cooking the chicken sous vide, that's OK but you won't get the smokey flavor. Not brining and then grilling are not recommended due to too many competing textures and tastes in the final product.
To 1 quart of water, add 1/4 cup of sea or kosher salt, and 1/4 cup of sugar. Stir briefly, then add the liquid smoke and molasses. Stir thoroughly until all solids are dissolved.  Using a meat injector like this one
, inject each breast in at least four places, slowly working in each 2 oz dose of brine. If you're not injecting, you can use our highly recommended Marinade Turbocharger. Pour the remaining brine in a non-reactive plastic container or a Ziplock bag, add the chicken, and refrigerate for 2-4 hours.
Cooking the Chicken Breasts
Wash the breasts in cold water to remove all surface brine. This step is important, because if you skip it your meat will probably be too salty to enjoy. Dry each breast with a paper towel, brush on a very light coating of good olive oil, sprinkle on the rub  so that there's more meat that rub showing, gently rub in, and vacuum seal no more than two breasts in each bag if cooking sous vide. Cook for 1-2 hours at 146°F in your water bath.
If you're grilling or barbecuing, use a little more olive oil. Grills and barbeques can handle more than sous vide, which tends to accentuate certain flavors such as garlic and olive oil. Bring the breasts to 165°F internal, double wrap in foil, wrap in a beach towel, and let rest in a cooler for at least 45 minutes. Use a mild wood, like alder, apple, or cherry if you're smoking (barbecuing),  as we don't want the smoke to overpower the rest of the flavors we're going to add next.
Putting It All Together
For the sous vide tribe, finish the chicken on a grill or with a torch. Brush the grill with some vegetable oil, then brush on a thin layer of  dark corn syrup (this really helps the Maillard Reaction to kick in fast and leaves a subtle slightly sweet bark) on the chicken, and grill over the fire for 60-90 seconds each side at no less than 500 degrees grill temp.
Cube the chicken into small pieces. I slice mine about 1/2 an inch thick one direction against the grain,  and make cubes by cutting the slices at 90° the other direction. Add the chicken to a mixing bowl, and add the remaining ingredients. Mix thoroughly with a wooden spoon, and refrigerate immediately for at least eight hours. You'll need this long for the flavors to meld and develop.
Serve  chilled as an entree, as a wrap or sandwich, or as a salad over fresh greens. If you're really being good with your diet, you'll love a side of my pinto beans–that's what we often serve with our chicken salad.
This recipe invites experimentation; that's how we developed it from our original chicken salad recipe. Please let us know what you did with it in the comments below.