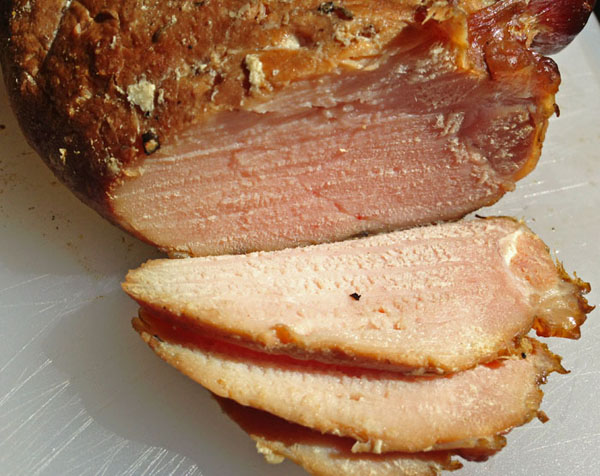 This article was intended to show how to make Canadian Bacon, and we'll tell you how. BUT….thanks to the USDA recent reductions on the safe  pork temperature, reducing it from 160°F to 145°F, we've discovered smoked pork loin–the precursor to Canadian Bacon–is absolutely killer as an entree, a side, or an appetizer.
Cured and smoked pork loin becomes Canadian Bacon (which isn't Canadian at all) simply by frying it. And, as promised, we'll give you that step, but you may prefer the simple cured and smoked pork loin. I mean, seriously, do you REALLY like Canadian Bacon that much?
Your answer may be a qualified "yes, because it's lower fat than American strip bacon."  Sure it is, because it's made from pork loin, which is only a little more fat than chicken breasts, skin on. It's a LOT less fat than our fabulous American style bacon, but skinless chicken breasts are MUCH less fat than any pork, except for pork tenderloin which I've pretty much given up on. It's just too lean to get a great taste. I've got some vanilla beans curing in bourbon now–maybe that will help it with a long marinade. Absent those results, for super low fat, stick to skinless chicken breasts. For pretty low fat ,this smoked pork loin is the stuff. Read on.
I settled on a Canadian Bacon recipe suggested by Michael Ruhlman, author of the best book available covering the art of cooking with curing and smoking,Charcuterie: The Craft of Salting, Smoking, and Curing (Revised and Updated)
.
This particular recipe was actually on Ruhlman's blog; a mixture of recipes and rants, and worth reading. I ended up doing some mods, most of which were reverting back to the curing brine used for our American style bacon, because it is, in my  not so humble opinion–perfect.  I also cut WAY back on the  Prague Powder #1 containing sodium nitrite. Ruhlman scares me the way he throws those quantities around. His suggested quantity of 2 tablespoons of cure for 2 to 4 pounds of pork loin is 6 to 12 times the USDA recommended maximum! This may be a misprint as his book recipes seems perfectly in line with good sodium nitrite practices. Keep it at 1/4 teaspoon per pound. Here's my recipe:
Canadian Bacon Recipe
Ingredients
2 pound of pork loin, boneless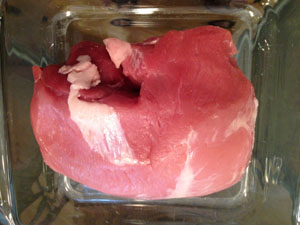 ▪ 1 qt. water (1 cup boiling, 3 cups ice water )
▪ 2.5 tbs. sea salt, fine grain
▪ 1/2 tsp pink salt (Prague Powder #1)
▪ 3 tbs. brown sugar
▪ 2 tbs. molasses
▪ 2 cloves garlic, smashed
▪ 1 bay leaf
▪ 1 tsp Thyme
▪ juice of 1/2 lemon
▪ 1 tsp Pickapeppa sauce
▪ 1 tsp black peppercorns, crushed with a skillet
Procedure
Curing Brine
Combine all ingredients except pork and water into a mixing bowl. Add 1 cup of boiling water, mix well to saturate the salt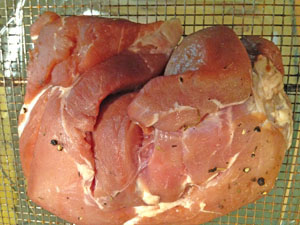 and sugar. Add 3 cups of ice water. Stir in to bring the brine temperature down to around 40 degrees. Put the pork loin in a plastic Ziplock bag, pour in the contents of the mixing bowl. Smooth out the plastic bag to get as much air out as possible.
Set in a tray, and refrigerate for 3-4 days. Each day, turn the brining pork over, making sure it's completely covered in brine. 72 hours after placing in the refrigerator, check the pork for firmness. If it's still quite squishy, give it another 24 hours, but no longer.
When the initial curing is complete, remove the pork from the tray and bag. Discard the brine. Wash pork under a cold water rinse lightly, pat dry, and place on a rack over a tray in the refrigerator to dry for 12-24 hours, depending on your schedule.
Smoking Your Cured Pork
Use a dedicated smoker, a charcoal grill (see our instructions here for slow cooking on a Weber Performer), or a gas grill.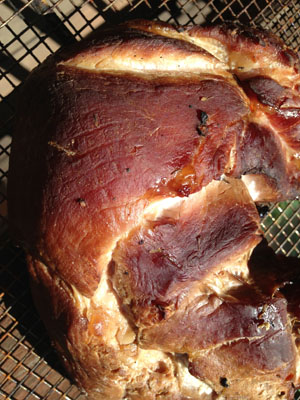 Use 2-4 oz. of wood chunks or chips to add some smoke flavor. I prefer Hickory, and as that's a strong wood I use only 2 oz. You can use more for lighter woods, such as apple or pecan or maple. These are all good choices.
Using the indirect smoking method, smoke between 200°F-225°F until the internal temperature is 145°F – 150°F. Double wrap in aluminum foil, and let it rest for one hour. It's done, and ready to eat!
As stated before, I prefer stopping the process here, and downing thin slices of beautifully smoked and cured pork loin. Dip them in Dijon mustard, use in a sandwich, or cut the strips into smaller pieces for topping off a fresh garden salad. For Canadian Bacon, simply fry a few slices in a pan with a little cooking oil or bacon grease. You'll find the flavor better than any Canadian Bacon you've purchased at the supermarket.
Want more details on bacon and smoking? Read our article about How to Make Bacon. It's all there.
Thinking about buying a dedicated smoker? Start here. 
Got other ways to enjoy smoked pork loin?  Let us know below in the comments. Thanks!