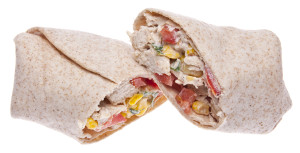 Sometimes experimenting by throwing together some ingredients yields great tasting stuff, and this one worked so well I wanted to share it.
Ingredients:
1-whole chicken (I buy mine , usually Foster Farms here in NorCal, either on ad or from Wal-Mart and pay $.79 – $.98 per pound. That's $5 for a good size bird or about $.75 per entree serving.
Mustard-2 tbl (I prefer dijon)
Poultry rub
Dehydrated onion-1-2 tbl. or a fresh diced Walla Walla onion
BBQ Sauce-your choice, but thin and vinegar-based (Carolina-style)  is the best and my OHY Sauce is what I always use as it's a Carolina style sauce. 
Preparing the Chicken: I only barbecue or smoke* whole chickens, but parts can work. If you don't have a barbeque, a charcoal grill can work, but you have to hold the temp to 250-275 to get the smoke flavor.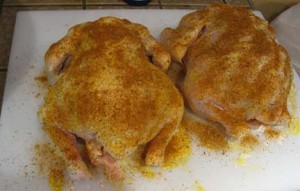 Take a whole chicken, rub in a tablespoon of mustard, and cover thoroughly with a good chicken, poultry,  or all purpose rub.

Barbeque
with cherry or apple wood, nothing stronger,  until the internal temp reaches 162-170,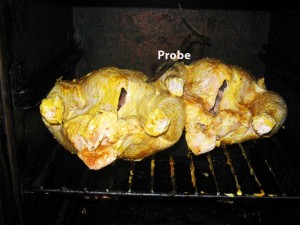 pull, double foil wrap, wrap again in a large beach towel and let set in a cooler for 1-2 hours. It will take that long to reach the proper finish temperature. This resting procedure should
always
be used for poultry when BBQing so the juices can disperse from the center back to the extremities.The minimum safe temp for poultry is 160 deg; you will hit +5 degrees with this resting procedure.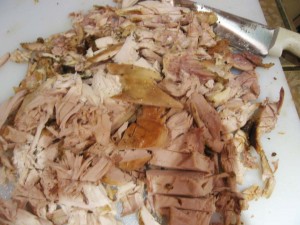 Making the Salad:
Remove the skin, then cut up the chicken (you can pull the meat off with your hands and by digging a fork into the meat and pulling,  if it's cooked right), then dice with a good chef's knife or Chinese cleaver. Put in a large bowl. Add about 2 tablespoons of dijon mustard, just enough to wet it down so it can be mixed in, then add about a tablespoon of BBQ sauce, preferably vinegar based. You can thin down a tomato based sauce with some vinegar and a little sugar if you put in too much vinegar. Add 1/4 cup chopped onions; you can even used dehydrated onions. Mix thoroughly and refrigerate overnight.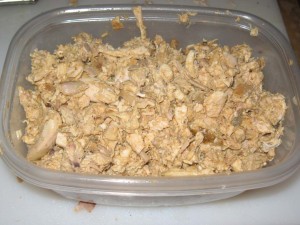 This is the best chicken salad I've ever tasted!  I haven't done a calorie count but as the only fattening ingredient is the darker meat, it's pretty healthy especially if you limit your serving to 4 oz. If you're super diet conscious, just use the breast meat with just a little dark meat for extra flavor. You can use a turkey or turkey breast as well;  it will be less smokey but with less fat. Eat as a main course, put in a green salad,  use in a sandwich, or serve it over my JR's Smoked Rice. Hope you like it, and let us know in the comments below.
* Smoking is done from 80-200 degrees, mostly around 175. Barbequing is done from 200-250 degrees. Baking is to 350, and above that you're grilling. This recipe is for BBQ which will give a whole chicken a very smoky flavor.