Beans and barbeque pair up, and always have. Unfortunately, most bean recipes are loaded with sugars and fat, and at BBQ4Dummies we work hard to de-fat anything we can while still retaining a great taste. This recipe is usually paired with JR's Smoked Rice. If you are health conscious, one half cup of each combined with LC's OHY Barbecue Sauce is a complete meal. Technically, it's the perfect meal. Over half the world lives on a primary diet of beans and rice, and we rarely see obesity in those people. You get protein, good carbs, and we added the ham for a little fat and flavor.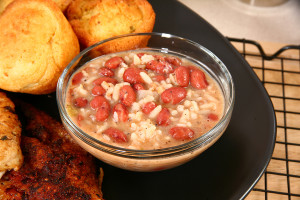 This is a very basic recipe, and lends itself to a myriad of variations with spices and peppers. Our entire household eats beans and rice as a staple, and two of the three of us (not I!) are averse to peppers and onions,  although  they are shown here, save for some dehydrated onions I sneak in. This is fairly mild, and you can hot it up with some jalapenos or serranos, and add some fresh onions and bell pepper for more flavor. Another variation is the beans. Feel free to substitute black beans or red beans. Whatever you choose, don't use canned beans, use dried and cook them yourself. It's much healthier and they taste better.  And it's cheaper!
Ingredients (about 10 –1/2 cup servings)
1- 16 oz.package of pintos or red beans (use canned beans if you must, but you will lose some taste).
2 cans of diced tomatos (14 oz. each)
1-1/4" slice of ham–about 1/3rd lb. , diced
2 tbs chili powder
2 tsp cumin
Celery
4 tbs diced onion
3 tbsp diced garlic
Rosemary
Louisiana hot sauce
Pepper
½ tsp salt
Instructions
Empty a package of beans into a colander, and wash thoroughly. Put beans in a large saucepan, add water to twice the height of the beans, and soak overnight.
The next day, drain the remaining water from the beans, and add about one cup of fresh water. Add the diced tomatoes, and bring to a boil. Add the other ingredients and let boil gently for about 10 minutes. Transfer to crock pot or let simmer for 4-6 hours.
This recipe is a true legume dish, and not "soupy." If you prefer a more chili-like consistency, I strongly recommend our newer Cowboy Ranch Style Beans.