Sous-vide cooking doesn't have to be restricted to your kitchen. Adventurous grillers and outdoor cooking fans have discovered that combining sous vide with grilling can produce a world class steak with less effort than with conventional grilling.
Sous-vide is a French term meaning "under vacuum." It's a method of cooking where the food is sealed in an airtight plastic bag. and then placed in a water bath for a duration exceeding a typical cook time expected with grilling, baking, or frying. The water bath temperature is determined by the desired doneness of the food. For example, if you like your steaks with quite a bit of pink, you'd set the water bath to 135. The premise is that the food's internal temperature cannot exceed the temperature of the water, so you are guaranteed an accurate level of doneness, and the food is cooked evenly since the water is touching the entire food surface in the plastic bag.  Here's a handy chart I use to determine sous vide cooking time for the desired doneness :
DIY vs. Buying A Sous Vide Cooker
There are a few options for choosing your sous vide cooking solution. Some people like to experiment for the first time by using their stove and a pot of water, provided you can maintain a steady temperature throughout the several hour long cooking process. If you cannot, do not waste your time, as even small fluctuations of 10 degrees will more than likely cause an undesirable outcome. A quick Google search for "homemade sous-vide machine" will give you some ideas for DIY options.
Another economical sous vide cooking hack, especially attractive if  you already own a simple (non-digital) rice cooker or crock pot, is this $100 DSV Temperature Controller for Sous-vide
.  We haven't tested this simple device that powers your cooker on and off as needed, but customer reviews are encouraging.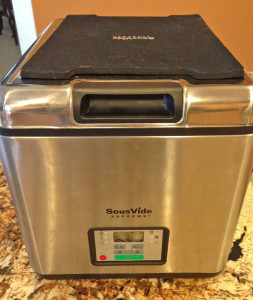 If you're not into making your own and want to avoid the inherent risks of imperfect temperature control, a great product that has become a top seller is the SousVide Supreme. At under $450, The Sous Vide Supreme is well built and reliable, and doesn't take up a lot of space in your kitchen. I've been using mine for the last 6 months with zero complaints. The SousVide Supreme is an attractive looking unit, with plenty of interior room to make food for a family of 6. At approximately 11″x14″, it's fairly compact as weighs just 13 pounds. It has an easy to use display panel that allows you to enter the desired temperature, as well as set a timer to remind you when the food is ready.
Top Sirloin Sous Vide
While a top sirloin is not usually regarded as a prime cut, they are killer good cooked sous vide and finished at high heat on the grill. Here's how to do it:
Sealing
The first step in Sous-vide is to seal your food. We use a FoodSaver, and it works great. I like to apply sea salt and pepper ,and then seal individual steaks, while some prefer to add butter or other ingredients. Personally, I haven't noticed an improvement when adding anything more than salt and pepper at this stage.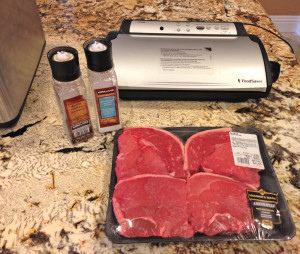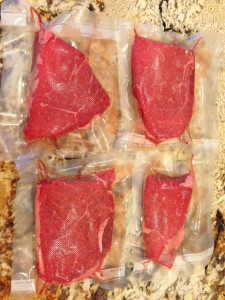 Cooking Your Steaks
Next, fill the water chamber with water, put in the sealed steaks, and  set the cooking time. For medium rare,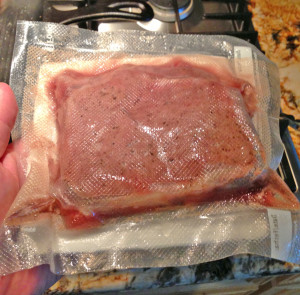 let them cook for two hours. When done, they will look grey and unappealing, but don't worry because the final product taste will be superb, and we'll show you below how to apply a quick sear for color and a crunchy exterior. Just cut open the bag, pull the meat out, and (very important step here) dry the meat well using paper towels so there's no visible moisture. Any moisture will make it difficult to get good sear marks.
Searing Your Steaks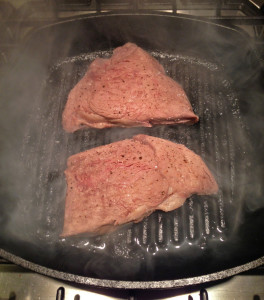 After drying the meat, season it (again, I'm a minimalist so I usually just go with salt and pepper) and place it in a cast iron grill pan that's REALLY hot. As an alternative, if you have a grill capable of reaching 600+ degrees, that's a good option as well. Most people are not going to fire up a charcoal grill for 2 minutes of searing, and gas grill temperatures, unless the grill has infra-red capabilities, are often too low for proper searing. A Grill Grate for gas grills is strongly recommended for higher temps and great looking grill marks. If you don't want to fire up your grill or range, then this cool butane searing torch is an easy alternative. You only need to sear it for 1-2 minutes per side.
Because you're using sous-vide, there's no need to let your meat "rest" for 15 minutes or longer to distribute the juices. The meat cooks so evenly that you can completely skip this step and cut right into it. As I think you'll agree, the final product looks pretty good.
This top sirloin was cooked at a temperature of 135 on my SousVide Supreme for 2 hours. The great thing about Sous-vide is that you can cook for an extra 30-60 minutes (or longer in some cases) and it won't adversely affect your food. This flexibility is handy when guests are running late or you're still making sides for dinner.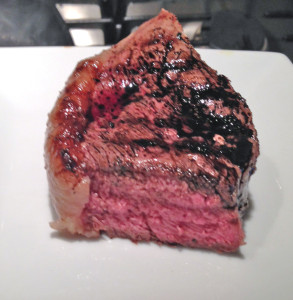 About the Author:
Jason Rogers is an experiment-prone foodie who loves to mess with baking, ceramic barbecue cooking, and now sous vide. Jason lives in Elk Grove, CA with his wife and family.