Barbecue grill brushes aren't a terribly sexy topic for a review, but they have been a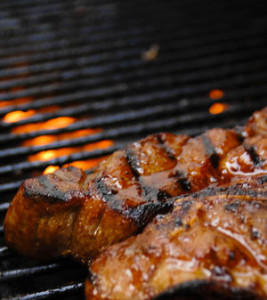 pet peeve of mine for decades. Simply, nearly all of them are inadequate for the job of thoroughly cleaning your barbecue grill. Here you'll find those we like, own, and recommend for you.
Unfortunately, using a grill brush after any cooking is critical to the life of the grill, and the taste of the food during the next cook.
There are only two good solutions, and yours depends on the composition of your grill.
For Stainless Steel or Porcelain Grills: Using a brass grill brush is important for these grills, as it won't scratch either surface, and it won't leave tiny bristles on the grill for food to pick up.  As much as I like and recommend several Weber grills and some accessories, only one of their brushes is recommended. The rest are light duty, and will wear out quickly. I've snapped too many cheap plastic handles on grill brushes, including some Weber products, to consider them as anything but wasted money.
The best brass brush we've found is this Industrial Grade Tuff-Built Grill Brush
.  It's inexpensive, will last more than two seasons, and has a sturdy handle. We like it even better than the Weber brush we recommended previously.
A gimmick where you should save your money are the steaming brushes. Hot water can help loosen food particles from a grill, but I'm pretty sure most of our readers have hot water available, and a plastic bucket. You get the idea.
For Cast Iron or Expanded Steel Grills:  Cast iron remains the best outdoor cooking surface, because it holds heat better and cannot wear out for at least 20 years with proper care.  They are a little higher maintenance, and the cleaning is a three-step process, but for barbecue aficionados, they're still the top choice, along with expanded steel,which is the most common grill found in competition grade units. Of course, most consumer grade grills and barbecues don't use cast iron or expanded steel due to the maintenance, shipping, and cost, but for those who have them, here are the two products I recommend:
First, a manly wire brush. By "manly," I mean a brush you can lean into without fear of snapping a handle or crushing the bristles, and that means steel bristles, not brass. The steel grill brushes sold for barbecues are no different in utility than a simple industrial grade wire brush used by painters, and they are much lighter duty.
They look pretty, and if that's your driving criteria, great. I'm utilitarian by nature (the Scot in me, probably) and that's why I use and recommend this Forney Carbon Steel Wire Brush
. It is tough, industrial grade, and gets deep into those tiny pores in the cast iron. And, it's cheap and will last three to four seasons at least. It's also thin, and that's important because you can work it along the sides of the grill grate,  as well as on the top.

Update 7/31/13
: We've found a super industrial grade and size brush we really like too. It's not for everyone as the initial price is higher than those reviewed here, but it may be cheaper than any of them over time. Read our full review here on
The Last Brush You May Ever Buy.
For both types of grills, you'll need a scrubber pad to finish the job and remove any tiny particles remaining on the grill. Here I'm going cheap again with replaceable pads because all of them wear quickly. Frankly, the scrubbing pads and handles marketed for grill use are mostly junk, and can disintegrate over a month's use.
I use and recommend this simple Scotch-Brite Grill Scrubber
. It's cheap, comes with three pads, and will last you one or two seasons before you need pad replacements, which are readily available.
Finally, for  both cast iron and expanded steel grills, you'll need to apply vegetable oil after cleaning.  Guys, stay out of the kitchen with your greasy hands, and get your own bottle. It will last for three years and the Dollar Store is your friend, as we've said in this article on frugality for outdoor cooking. The brand doesn't matter. Use a paper towel, get plenty of oil on it, and wipe down the grill, leaving it ready for the next outdoor cooking adventure.
For those who wish to use soaps and chemicals to clean their grill, there are dozens of choices. I don't use any of them for the actual grill. I don't want to ruin the seasoning, nor do I want to add any peculiar taste to the food. Cleaning as recommended herein is all that's needed for the grill.
For the outside of the grill or barbecue,  I use GrillPro Stainless Steel Cleaner

for those surfaces. It's the best I've found because most don't cut through grease. This product does.  For other surfaces, I use an orange-based citrus product from the Dollar Store. You don't need anything else if you clean regularly.
Cleaning any grill is messy, and these great gloves reviewed here should be used when cleaning. They will protect your hands from grime and grease, and from hot grills and lingering fires too.