Fans of the canned Ranch Style Beans will love this one, and find it to be a great improvement. It's fairly easy, and a perfect side for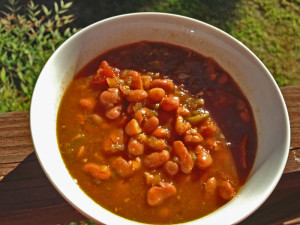 anything barbecue. Use a slow cooker to make it even easier. I always keep at least a quart on hand, and eat them for lunch 3-5 days a week. I never tire of the taste.
The recipe below includes my tweaks with notes and some added ingredients, and is based on a great ranch style bean recipe from Homesicktexan.com.   I used a crock pot rather than a simmer on the range.
Cowboy ranch style beans (Serves 4-6)
Ingredients:
16 oz.package of dried pinto beans
Don't use canned beans. Dried beans taste so much better and are more healthy due to no processing. 
6 ancho chiles, stems and seeds removed
I used anaheims, which were fine. She recommends using a 1/4 cup of chili powder as a substitute if you can't find the chills. Find the chilis. The chili powder is OK but the visuals and extra taste are worth the hunt. 
6 cloves of garlic, minced
1 onion, diced
1-15 oz. can of diced tomatoes (or 2 medium-sized tomatoes)
I used fresh tomatoes from the garden, 3 Early Girls. I always try to use fresh tomatoes in recipes. It does taste better.
1 teaspoon brown sugar
1 teaspoon apple cider vinegar
1 teaspoon paprika
2 teaspoon cumin
1 teaspoon crushed rosemary
1/2 teaspoon oregano
1/4 cup water
4 cups of beef broth
 (32 oz. package)
Trader Joe's Organic Beef Broth is lower fat, gluten free, and tastes better than the standard grocery store fare. Salt content is the same, and high, so you probably don't need added salt unless your taster tells you so.
1/2 tsp. Wright's liquid smoke
Dash of Sriracha sauce
Ground black pepper to taste
Procedure:
Soak the beans covered in water—either overnight or the quick soak method. Directions (if you need them) are on the bean package. I usually use the quick soak method in which you place the beans in a pot, cover with water, bring to a boil, cover and remove from heat and let sit for one hour.
Drain the soaked beans into a colander, and rinse with cold water.
If you chilis are dehydrated, cook them on each side in a frying pan for a couple of minutes (or until they start to bubble and pop), turn off the heat and fill the skillet with warm water. Let them sit until soft and rehydrated. Give them about 30 minutes.
Sautee the onions in olive oil until browned, then add the garlic and cook for another minute.
In a blender or processor, puree the cooked onions and garlic with the diced tomatoes, brown sugar, vinegar, paprika, cumin, oregano, rosemary, liquid smoke, water, and chiles until smooth. You can add a little water if necessary.
Add the pinto beans and beef broth to the crockpot, and stir in the pureed ingredients.
Set the crockpot to high, and wait until the beans come to a boil. Splash in a few drops of Sriracha Hot Sauce to taste, reduce the temperature to low, and let simmer, checking for doneness occasionally, for another two to three hours. When done, add some cracked pepper to taste.
Keeps in the refrigerator for a couple of weeks, but it probably won't last that long. Serve as a side or entree.