Weber's top selling Weber Smokey Mountain dedicated BBQ smoker has become legendary outdoor cooking  equipment for millions, worldwide. It's as much at hom
e in the Kansas City Barbecue Society Winner's Circle as in your back yard.
When a $300 barbecue won the KCBS Grand Nationals, leaving teams with $10,000 – $15,000 barbecues wondering what hit them,  eyebrows were raised. as was the status of the already highly popular Weber Smokey Mountain (WSM).

The WSM is a dedicated barbecue, and not for ultra low temperature smoking or grilling. You can use it as a grill in a pinch by removing the upper grate, but it's inconvenient. You can smoke salmon on the upper grate, but keeping the grill temperature down to no more than 175 degrees is a constant chore. Neither grilling nor smoking are processes for which the WSM is designed–it's for low and slow barbecue cooking, from 225 – 300F degrees.
And for that, there's no better product for under $500 in the world.
The WSM comes in two sizes–18.5″ and 22.5″. The 18.5 " is the most popular, and large enough to put out ample BBQ for around 20 people. It will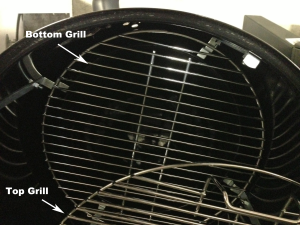 hold a full size turkey,  at least four whole chickens, and you'll be kicking out mouth watering, fall off the bone ribs like these. For a larger crowd, another hundred bucks puts you in the 22.5″ size–equal to two full size Weber grills in grill surface area.
There's really not much to it. There's a steel barrel, two grills, a porcelain coated water and drip pan, and a charcoal grate. A somewhat inconveniently small door allows access to the charcoal grate for starting and maintaining your fire.
Two other big plusses–online forums with absolutely rabid WSM fans who will jump at the chance to help out a newbie with barbecue questions, and a growing line of accessories, like this cool IQ120 BBQ Temperature Regulator Kit with Standard Pit Adapter

 that electronically adjusts the bottom draft to keep your temperature constant throughout your cooking time, and claiming 8 hours of cooking from one load of charcoal. One of my friends actually has a setup on his WSM where he controls the temp from his iPhone!  He's a little strange…..but it's still too cool to have that capability. That device is around $200.
The WSM is like a Boston Whaler in rough water–the boat probably has more capability than the captain. The WSM is simple, easy to use, and has capabilities far in excess of most BBQ chefs–even the pros.
For $300, the Weber Smokey Mountain is a complete unit–you don't need anything else except a good seasoning,detailed in this great review by Harry Soo
, a Grand Champion Winner who has won championships all over the world with his WSM, and some procedures and recipes (find 'em on this site!) to start serving world class barbecue.
Add accessories as you wish–your needs and desires will grow with your skills–and the WSM will last you for 20 years or more with some care.
Weber Smokey Mountain Cooker 18-1/2-Inch Charcoal Smoker

Weber Smokey Mountain Cooker 22-1/2-Inch Charcoal Smoker