This Sangria is definitely a light version, but for our hot Sacramento Valley it's become a summer  favorite among our friends.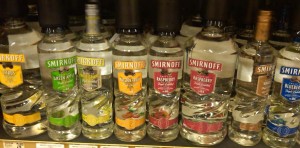 This recipe uses fresh watermelon,  which ties in with the watermelon vodka. You can easily substitute the fresh fruit for your preferred vodka flavor, which can be blueberry, passion fruit, grape, and others. Just be sure to match the fresh fruit to the vodka flavor. All the other ingredients remain static.

INGREDIENTS:
•            1/2 (750 milliliter) bottle dry white wine
•            1/3 cup  watermelon flavored vodka
•            3 tablespoons frozen lemonade concentrate, thawed
•            2 tablespoons white sugar
•            1/2 pound watermelon, seedless and sliced
•            1/2 cup  seedless red grapes, halved
•            1/2 cup  seedless green grapes, halved
________________________________________
DIRECTIONS:
1.            In a large pitcher, combine dry white wine, flavored vodka, lemonade concentrate and sugar. Stir until sugar is dissolved. Add sliced fruit, red and green grapes.
2.            Refrigerate sangria until well chilled, at least 2 hours, or overnight to blend flavors. Serve over ice, and use a slotted spoon to include sliced fruits and grapes with each serving.