Quinoa, sometimes referred to as a superfood, is a grain-like seed that has become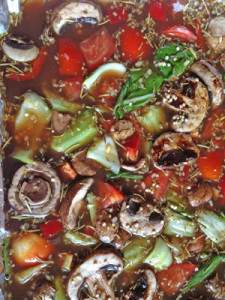 widely popular in recent years, primarily as a rice substitute. The attraction to quinoa is the taste, the higher protein (about double) content than brown rice (actually quinoa is considered a complete protein), and the great diversity of its use.
My daughter got us on quinoa about a year ago with a killer recipe that tastes like greaseless fried rice–and it's not fried. I love the taste and firmer texture and how these little soft seeds seem to go well with so many foods. We've been enjoying my smoked rice for the past 20 years, and I wondered how quinoa would stack up to that taste. Here's what we found.
Starting with a 12 oz. box, available at most grocery stores now and often in the rice section but sometimes in health foods,  I printed out the smoked rice recipe (using the site Print feature–have you tried it?), and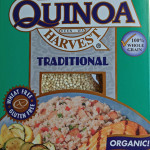 tried to determine what modifications, if any, needed to be made. Finding nothing on the Internet about smoking quinoa, my decision was to make as few mods as possible as the smoked rice has been a favorite for many over the years. The only mod used was substituting bok choy for the celery to push the Asian taste a little.
The first picture is of the mix of ingredients below in an aluminum pan, ready for the smoker. I used my electric Cookshack smoker this time. For smoke I chose apple wood, and used only 3 ounces; we want to avoid any acridity in more delicate and non-meat cooks.
Setting the smoker for 250°F seemed about right. We start out with a lot of liquid and it needs to be completely gone at the end of the cook. Unlike most meats, the temperature isn't critical; anywhere from 225° – 325°F is fine. If you want less smoke use the higher temperature; for more smoke use the lower range.
In exactly three hours it was done. The liquid had been absorbed or cooked off and the quinoa was fluffy. All the vegetables had turned into bright colors and the look of the dish was beautiful.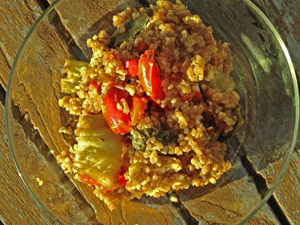 The best part was the taste! Full bodied, a hint of Asian cuisine but nothing overpowering. This will be a great side dish for poultry and mild pork and as a stand alone light lunch or dinner too, or as a complete protein addition with our killer pinto bean dish. While I'd highly recommend this dish as an accompaniment to our Pork Tenderloin Sous Vide with Hoisin Dipping Sauce, I'd stick with the smoked rice for heavier beef dishes like brisket and tri tip.
After three of us tasted it critically, we came up with two changes we'll try next time. One, I'm not sure the bok choy is additive; the native slight bitterness needs some offsetting spices (like ginger) that don't match well with the rest of the ingredients. I'm showing the bok choy as an option below.
Second, while the mushrooms add a great flavor to our smoked rice, I've cut the quantity in half below. The third of a box we use for the smoked rice makes the quinoa a bit gummy. We don't want to lose the flavor the mushrooms add, but we want to keep the firm quinoa texture in the forefront.
Smoked Quinoa
1-12 oz. pack instant Quinoa
4-cups hot water with 4 heaping tsp. of chicken boullion or Better than Boullion (preferred)
1 cup chopped celery, or bok choy (see notes above before using bok choy)
1/6th small basket sliced mushrooms
½ of a bell pepper (I like red because it looks cool)
3 fresh tomatoes, cut in small chunks
½ cup chopped onion (I use dehydrated or green onions)
1 tbs Worcestershire
1 tbs Picapeppa
½ tsp thyme
½ tsp rosemary
1/4 tsp celery seed (use with bok choy only)
½ tsp garlic powder
Pepper to taste
Few drops of Sriracha hot chile sauce
Combine ingredients in a mixing bowl, mix, and then pour into a disposable aluminum pan, making sure the mixture is less than 1″ thick. If thicker, go with a larger pan. A 12″ x 10″ x 2″ pan works fine. You can also use a Pyrex glass casserole dish if you really like clean up–I don't–and smoke always makes a mess on cookware.
For DedicatedSmokers use wood sparingly; about 3 oz. of fruitwood is all you need. If you don't have a dedicated smoker, please consider picking one up. I was at a KCBS competition over the weekend, and noticed the majority of barbecue smokers there were our favorite, the Weber Smokey Mountain. Here's our review. 
For Weber Grills you can double the wood and not worry too much about the temperature as long as it's under 325°F and above 250°F.
Per the instructions above, cook for about 3 hours or until the liquids have been absorbed or evaporated. Have some fun with this one. If you haven't discovered quinoa, this is the time. You'll love it and will probably make it a regular side once you try this recipe.