Pulled pork anything is very trendy now, but it's one of the oldest BBQ specialties around. BBQ4Dummies strongly recommends pulled pork as your first attempt at BBQ. Barbequing a shoulder is incredibly easy and very forgiving. You have to try to screw this one up.
First, a little about the cut itself. A pork shoulder consists the upper portion of the hog's front leg. There are  two parts to the shoulder, the pork butt, sometimes referred to as Boston Butt,  and the picnic. The picnic is often used for making ham, thus the term, "picnic ham."
Often the cuts are not distinguished properly, so if we hear pork butt or Boston Butt or pork shoulder, it's going to be one of the two parts. The pork butt is the traditional cut for pulled pork, but this time I'm using a picnic. It was $.98 per pound from Wal-Mart, and I like the slightly "hammy" taste of a picnic over a butt. I am using 10 lbs. pre-cook weight, bone in. I can't think of any cut of meat where bone-in isn't better for BBQ.
Ingredients
Pork Shoulder, butt or picnic as detailed above, about 10 lbs.
Yellow mustard
Molasses
Pork Rub
Cheap, soft white hamburger buns. Basic, nothing fancy.
Cole Slaw (see below for recipe and ingredients)
Barbeque Sauce, vinegar based, thin consistency. If you don't have this, don't want to make it up, or can't find it, you can thin out any sauce with some white vinegar. Put some BBQ sauce in a saucepan, heat to medium, and slowly add white vinegar until the consistency is very fluid, not much thicker than water.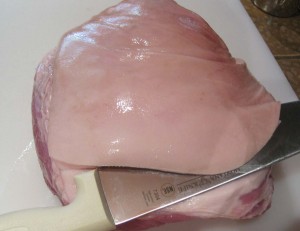 Prep is simple. After working the picnic over well with my Marinade Turbocharger, I first trimmed off about 3/8ths inch of the fat cap. We need some fat to retain moisture in low and slow cooking, but as is often the case with untrimmed brisket, there's too much fat for any beneficial use. After the fat is trimmed, simply coat the pork with a light film of yellow mustard, then a generous coating of molasses, and then cover with a good pork rub.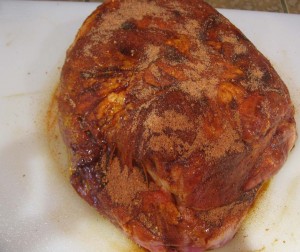 It's best if the fat cap is facing up when cooking. That way the fat will actually run through the  meat rather than simply be rendered down to the bottom of your pit.
Now that the shoulder is cooking, it's time to make the cajun slaw. You can refrigerate it for as little as 6 hours, but overnight is even better if you're an advanace planner. Here's the recipe:
Cajun Cole Slaw
INGREDIENTS FOR REMOULADE SAUCE:
•            1 1/2 cups mayonnaise
•            1/2 cup Creole mustard (I use Grey Poupon )
•            1 tbsp Worcestershire sauce
•            1 tsp hot sauce
•            1/2 cup Heinz Hot & Spicy ketchup (I used Chili Sauce, seemed to work).
•            1/4 cup minced red bell pepper
•            1/4 cup minced yellow bell pepper
•            1/2 cup minced celery
•            1 tbs finely minced garlic
•            1/4 cup minced parsley
•            1/2 tbsp lemon juice
•            salt and cracked black pepper to taste
INGREDIENTS FOR SLAW:
•            4 cups shredded iceberg lettuce
•            3/4 cup shredded red cabbage
•            3/4 cup Remoulade sauce
Mix together well, and refrigerate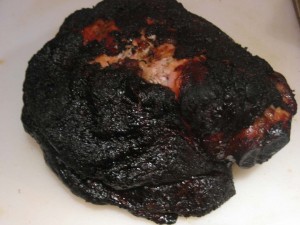 Pork shoulders are a tough piece of meat, and this one took 8 1/2 hours to finish, keeping the BBQ temperature around 225 degrees with an internal  temp reading of 185 degrees. You can let it get to 200 degrees and it will be fine; don't pull it until it's at least 185 however. It's safely cooked at 170, but this cut needs to be thoroughly cooked in order to pull it easily in shreds.
Double wrap in foil, wrap a beach towel around it, and place in insulated cooler for at least two hours. If you skip this step your pork will not have the flavor depth you desire. By "letting set," we're letting the juices re-disperse throughout the roast.
When the resting time has passed, place the roast on a cutting board ,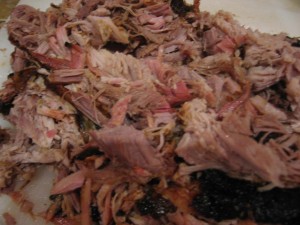 and first check to see if there is a fat cap that can be easily removed. You'll know–poke around with the broad edge of a knife blade, and if it's there the knife will pick it up easily. Then, grab a fork, and start sheading! You can't over do it, just dig in and pull hard. When you're done you'll have a platter full of shreaded pork, and that's pulled pork!
Here's the order of prep.
1.  Lay each side of the bun face up on a plate.
2.  Brush some BBQ sauce on each bun
3.  Spoon on a healthy portion of pulled pork on the bottom bun
4.  Add a little BBQ sauce, maybe a tablespoon
5.  Spoon on some slaw right over the pork.  A heaping tablespoon or two will do it.
6. Slap on the top bun, and serve
You're done!