Crawfish season is here in the non ice cap states, and this crawfish bisque recipe from Louisiana Seafood is the perfect opener.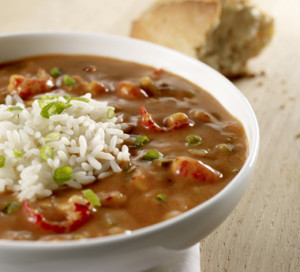 You can find crayfish, crawdads, bugs, crawfish, whatever you like to call them, at local seafood stores, Asian markets ( a GREAT source for fresh seafood at good prices), or often at the site where they are harvested.
I harvest my own with a simple crawfish trap, baited with a couple of cans of dog food. Punch out some holes in both the top and bottom of the cans, drop them in the trap, and lower the trap into water holding your poor man's lobster, preferably with a rocky bottom. That's where the quarry hangs out.
If you don't have one, here's a good and inexpensive crawfish trap
that I recommend, as I have two of them.
The recipe below is a good one, however as we detailed in our Cajun Shrimp article, smoking adds a great deal of flavor to shellfish, and crayfish do need some help as they are bland, by nature.
We don't recommend brining, as you'll see in the article, but a simple treatment with spices and good olive oil with give your crawdads a great flavor boost.
Our family stays away from white rice, and our Smoked Rice recipe is absolutely perfect for your smoked crawfish bisque.
With those two mods, here is your recipe, courtesy Louisiana Seafood. Let us know what you think!
Reserved crawfish shells
6 ea Garlic, whole cloves
1 cup Onions, large dice
3/4 cup Celery, large dice
1/2 cup Green peppers, large dice
3/4 cup Tomatoes, large dice
1 ea Bay leaf
3 ea Thyme, fresh, whole sprigs
2 tsp Black peppercorn, whole
3 lb Louisiana Crawfish Tails, raw, peeled, shells reserved for stock
4 qt Crawfish stock*
1 cup White wine
1 1/4 lb Butter, unsalted
5 cups Flour
3 cups Onions, small dice
2 cups Celery, small dice
1 cup Green bell peppers, small dice
1 cup Red bell peppers, small dice
1/4 cup Garlic, minced
1 qt Tomato puree, canned
5 cups Heavy cream, divided
2 tsp Paprika
1/2 tsp Cayenne
2 tsp Original TABASCO® brand Pepper Sauce
6 sprigs Thyme, fresh
4 ea Bay leaves
2 cups Green onions, chopped
1 cup Parsley, chopped
Salt, to taste
Pepper, to taste
6 cups White rice, cooked
Directions:
To make crawfish stock, place crawfish shells in large stock pot and cover with water. Add garlic, onions, celery, green peppers, tomatoes, bay leaves, thyme and peppercorns. Bring to simmer and cook for 45 minutes. Strain and cool until ready to use. Can be made 1 day in advance.
Bring Louisiana Crawfish stock and white wine to a boil in a large sauce pot. Remove from heat and reserve.
Melt butter in large pot over medium heat. Add flour and stir constantly over heat until roux becomes light brown. Add onions, celery, green and red bell peppers and garlic. Cook for 5-6 minutes, until vegetables are tender. Add tomato puree and stir to combine.
Add crawfish stock 1 quart at a time, whisking until soup is completely smooth before adding next quart of stock. Once all stock has been added, add heavy cream, paprika, cayenne, TABASCO®, fresh thyme and bay leaves. Cover, lower heat to low and simmer for 30 minutes, stirring occasionally.
Add crawfish tails, green onions and parsley to soup. Cook additional 5 minutes. Season to taste with salt and pepper and remove bay leaves.
Ladle soup into appetizer or entrée bowls and place large spoonful of white rice in middle of each.
NOTES from LC:
-the cream is a nice touch, but whole milk is OK too
-the smoked rice can be mixed in, not just spooned on top
The link above to the crawfish trap is an affiliate link, and if you buy a trap or two (get two, they're cheap) Amazon pays me a little money as a thank you. It doesn't add to your cost and it makes me want to write more for you:-0 Thanks!~LC