Tired of clogged bristles on grill brushes that often last no longer than one or two seasons, and from grill splatters from the typical short grill brush handles, Kevin Moore, owner of Engineering Science and Technology, calls his new industrial grade grill brush The Last Brush
.

Moore's new grill brush comes with a 36" handle, a grill scraper, and a heavy duty 7" x 1" steel bristle brush. He estimates the life of the brush to be 5 to 7 years, depending on usage. He throws in a handy leather hanging loop, too.
When we received Moore's brush that he had sent to us to test and review, we were immediately intrigued with its spartan but heavy-duty characteristics. Made in America, The Last Brush looks like something we'd see in a commercial kitchen or near a trailerable barbecue pit at a KCBS competition.
Grills get clogged over time with residue that most of the smaller, readily available short handle brushes; even those reviewed and recommended here, just won't attack and take out completely without a lot of scrubbing. Our main smoker is a Pitts and Spits custom pit with expanded steel grills, and they were in need of a good cleaning. After pulling some pork ribs and while the grill was still hot, we put it to the test.
The first thing we noticed was an unexpected ease of use with the longer handle. It's not ungainly as we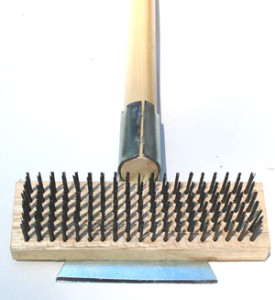 thought it might be, and it gives the leverage we've missed in the smaller brushes. The steel bristles attacked the built up grease quickly, and after turning the brush over and giving the grills a quick scrape, they were clean and ready for re-oiling. Nice.
For our gasser, we use and absolutely love the Lodge Logic Cast Iron Grill Grate
. We use the gasser mostly for finishing our sous vide dishes, and the dark corn syrup and baking soda we often add to the meat surface to enhance the Maillard Reaction quickly builds up. While  a softer, non-metallic brush should be used on seasoned cast iron, would Moore's brush be too hard to handle on the smaller Weber grill underneath? Nope—not at all, surprisingly, and after bringing the 23 year old Weber up to 400° we easily scraped the caked residue our short handled brushes had left behind.
Although Moore told us most of his sales were to large pit owners that either catered or competed, we think The Last Brush is a good investment for the back yard griller and smoker too.
Pros:
Heavy duty, probably long lasting
Excellent leverage on the brush
Long handle prevents burns and grease splatters
Built in scraper
Made in America
Cons:
Initially expensive. Regardless of where you buy it, the brush is going to set you back close for $30. However, if you can get the five years or more of use that Moore claims, its lifetime cost is less than buying a new short handled, lesser quality brush every year. The brush is replaceable too, if needed. It attaches with four phillips screws.
 Storage. It's long enough you can't hang it from most grill racks.
 Cannot be used on any coated grill surface, such as porcelain or Teflon.
 Steel bristles will rust, so they need to be cleaned and dried after each use for maximum longevity
Where to Buy It