In 1994, Jerry Roach, known as JR in competitive BBQ circles, went on the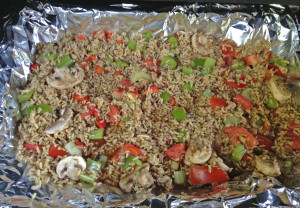 road with JR's School of Southern Barbecue. I flew down to San Diego, the closest venue, and learned more from this famous BBQ manufacturer and competitive chef than I could have gleaned from 10 books.
Of all the tricks and recipes I've learned, JR's Smoked Rice has been the most valuable of all. Fifteen years later and after many modifications, some major, I still get more requests for my smoked rice than for anything else.
My most major modification was eliminating all the oil and butter he adds, and substituting brown rice for white rice. Brown rice is a lower glycemic carbohydrate, much healthier, and tastes great. Here you go.
Ingredients:
Combine the following into a large mixing bowl
1-14 oz. pack conditioned (pre-cooked, parboiled) instant brown rice
4-cups hot water with 4 heaping tsp. of chicken boullion or Better than Boullion (preferred)
½ cup chopped celery
1/3 small basket sliced mushrooms (about a large handful)
¼ cup bell pepper
½ cup chopped onion (I use dehydrated or green onions)
2 tbs. Worcestershire
½ tsp thyme
½ tsp rosemary
½ tsp garlic powder
Pepper to taste
Few drops of Louisiana Hot Sauce
Line a medium sized aluminum roasting  pan so the entire mixture is no more than about an inch deep. Pour the entire mixture from the mixing bowl into the pan. Stir. Smoke at 225-250 deg for 2-4 hours or until rice is fluffy and all liquid absorbed. Using a wooden spoon, stir the mixture every 30 minutes to assure all ingredients receive smoke uniformly.