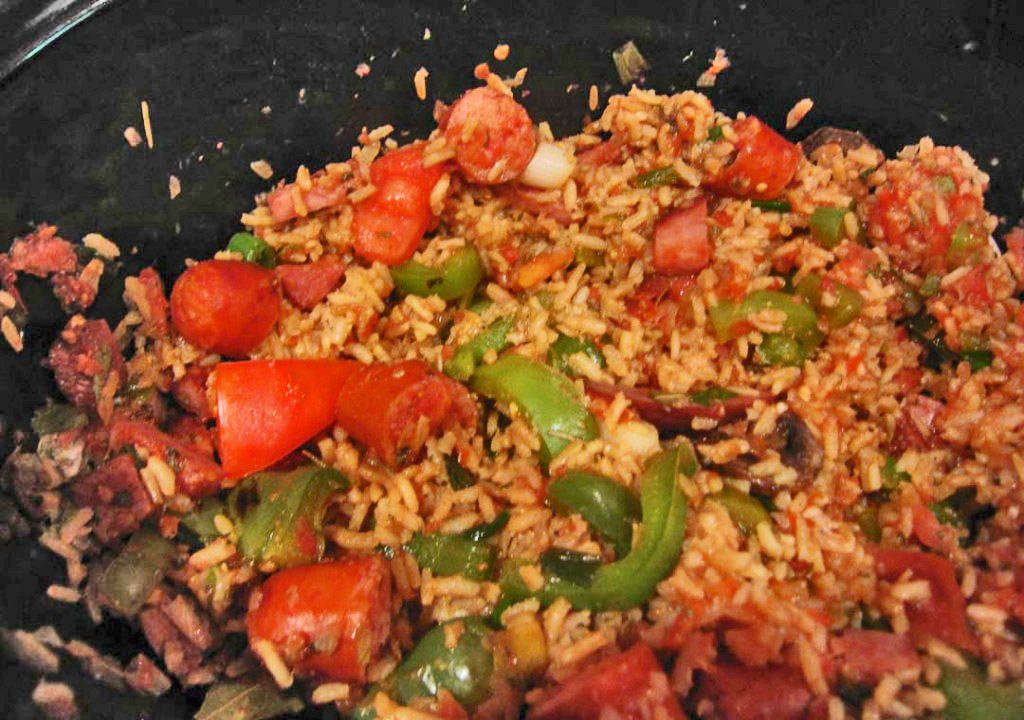 Jambalaya hails from the great state of Louisiana, and was adapted from Paella, commonly found in the Mediterranean countries. It's a Creole dish,  and although there are hundreds of variations.
Jambalaya always has three common ingredients, meat, vegetables, and rice.
 For the meat, you can use shrimp or crawfish for the seafood portion;  chicken, ham, and Andouille sausage for the other meats. Typically, either your Jambalaya is water-dweller or land animal based, but I think Andouille sausage should be found in every Jambalaya. The triage of bell pepper, onion, and celery is present in any respectable Jambalaya.
Prior to trying this recipe, the best Jambalaya I ever had was in Emeril's  in New Orleans. We had a wonderful dinner there, about one week before Katrina hit. Unlike so many celebrity restaurants, Emeril's is about as good as it gets in New Orleans, and that's a huge compliment as that city has some of the finest dining in the world.
The recipe used here is based on a Jambalaya recipe in Emeril's book Louisiana Real and Rustic
.
The major departure was substituting JR's Barbequed Rice, a core recipe I've been using since I tasted it at JR's School of Southern Barbeque , based in DeWitt, Arkansas but held in San Diego in 1994. I've modified the recipe heavily over time, but it's still Jerry Roach's  inspiration and a favorite of all that taste it.
I use my barbequed rice for everything that calls for rice. While JR uses white rice, I use brown rice. It's much better for you, is fairly low glycemic, and tastes great after treated with a smooth fruitwood smoke. You can find that recipe here.
Ingredients
3 hot links or Andouille sausages
½ lb ham, sliced to  3/8″ about thick
Bell pepper—chopped into 1/2″ chunks
3 bay leaves
2 fresh tomatos- processed to a pulp
½ cup chopped green onions
2 small Jalapeno peppers, thin sliced
Half a batch of JR's Smoked Rice
Tony Chachere's Creole  Seasoning—about 1 tablespoon
The rice should be done first, and it will take 2-4 hours. When the rice is done, the next step is to grill the sausage and the ham. Don't shortcut this step, as grilling over a wood or charcoal fire adds a subtle smokiness that totally compliments the smoked rice. When done grilling, slice the sausage into 1″ sections, and the ham slices into  1/2″ chunks. Next,  spray a frying pan with some Pam, and bring to medium high heat. Add  the veggies, and after grilling and slicing the links and the ham, throw those in the pan.
Stir, and allow the vegetables to because well sauteed, evidenced by brown to black edges. This will take at least 15 minutes with Pam spray, less if you use cooking oil. Once brown, place the rice in a crock pot, add the contents of the frying pan, and stir the mixture. Set the crock pot to low, and let the mixture meld for at least 2 hours.
What makes this Jambalaya unique and so amazingly rich in flavor is the added smoke from the rice and meat. It's subtle, but you can smell it and taste it. For seafood, you can use a good quality 21-30 count shrimp, shelled. Wal-Mart sells them for $5 for 14 ounces and it's the best quality frozen shrimp I've found. Crawfish can be bought from local seafood markets, bait shops, or you can do what I do and trap them. I'll detail those adventures later. The shrimp can be sauteed with the veggies; the crawfish should be boiled only.
Serve the Jambalaya in a bowl. That's your dinner, you need nothing else. I prefer to wash it down with a cold Alaskan Amber.
The book link above to Emeril Lagasse's Louisiana Real and Rustic is an affiliate link for which I will receive a referral fee if you buy it. This is one of Emeril's older books, and my personal favorite from his collection. If you love traditional Creole cooking, pick up a copy as it's getting harder to find. It's completely authentic and much less "foo-foo" than some of his more recent books.