Unless you have a Sous Vide Supreme with a food holding rack, chances are you've experienced some floaters on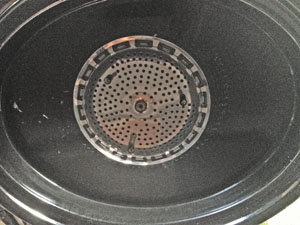 occasion, especially when we can't use a vacuum sealer, as with burgers and scrambled eggs.
I use a crock pot and a controller for my sous vide cooking, and keeping the food under water has been a constant problem with some items. After experimenting with fiberglass rods, vacuum sealed pebbles, and a horridly ineffective coil of stainless steel wire, none of which worked well,  I finally found an easy, inexpensive solution that works perfectly.
This Stainless Steel Vegetable Steamer
 fits our oval
crock pot well,  As I have yet to see an oval-shaped vegetable steamer or any other device that fits a 6 quart crock pot perfectly, this steamer is as good as it's going to get and it's totally adequate, as it expands from 5.5 to 9.5 inches, well exceeding the dimensions of the crock pot.
Simply adjust the sides for your bags, turn it upside down, and drop it in over the bags. In the picture above there's a Ziplock bag with eight eggs, cooking as scrambled eggs, just under the steamer. They float slightly off the bottom. The 6.5 oz. steamer is heavy enough to keep most any bag submerged but is light enough to not pin the bags to the bottom. The perforations in the stainless steel sides allow plenty of water to flow around the food, too.
Another option is to set the steamer right side up, and with some 16-18 gauge stainless steel food grade wire (available at Ace Hardware stores), make a simple loop that reaches just below the water line, hooking the ends of the wire through the perforations.  This greatly increases the capacity of a crock pot, and lets the bags bathe without crowding each other or going above the thin wire barrier.
If you have a better and cheaper solution, let's hear it!  Frankly I'm so pleased with this simple device I cannot imagine needing anything else.
Recommendations
Norpro Stainless Steel Vegetable Steamer
 to keep those bags in your water bath, not floating on it.
For a crockpot, I did some serious shopping and ended up with this Hamilton Beach 6-Quart Slow Cooker
 for about $30. This particular model is a standout because it has a rubber seal that the Crock Pot line and most others lack, allowing an airtight seal for your temperature control probe.
For the controller, I cannot express enough satisfaction and pleasure with the DorkFood DSV Temperature Controller
for about $100. It's been put through a lot recently, and appears to be bulletproof with great customer service and company engagement too.