"El Pescadorito!" The crewman on our dilapidated San Carlos Bay fish boat, chuckled as my 1o year old daughter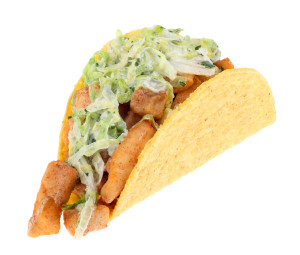 landed her third Dolphinfish (Mahi Mahi) of the morning in one of our favorite fishing grounds on the Sea of Cortez. It was late morning, and we both said "yes" when asked if we were hungry. We had a pretty good idea of the ensuing fare.
Fish tacos are a favorite of many, yet so many of the recipes are neither authentic nor tasty. I've discovered that when trying to emulate food from a different culture, first consider the ingredients they have readily available.
In Mexico, for example, any place but the most urban areas has limited selection of foods and ingredients, so it's usually safe to assume their delicious fare  is made from relatively and simple ingredients. As you will soon see, the "secret sauce" is……not.  At BBQ4Dummies we always try to keep things simple and healthy. This  fish taco recipe is taken directly from our San Carlos charter boat, as I simply watched the mate cook our fresh fish and prepare the best fish tacos.
Fish: Mahi mahi is best, snapper, true cod, or redfish. Cut to McDonald's Chick Nugget size, dip in milk or raw egg then dredge them in a dried bread crum coatings. Use Dixie Fry or Panko as a coating–I prefer Dixe Fry for fish tacos. Fry them in plain cooking oil. FRY means they should be covered with oil all the time while they are cooking, as in deep fat fry. An option is grilling, but although healthier I think pan fried tastes better.
Tortilla: Corn. Lightly coat with butter, then grill quickly for warming.
Secret Sauce: Mix a little mayo with some salsa; that's the 'secret sauce' for most true Mexican fish tacos. It's about a 40/60 mix. It 's not exact, and largely by taste, but start with 2 parts mayo to 3 pasts salsa.
The grill marks are inside the tortilla, not outside. Spread your salsa/mayo mixture throw in the fish, add some more salsa, top with a sliced cabbage, add a good sqeeze of fresh lime,  and you're good to go.