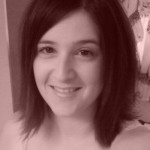 Darcy Goulart lives in Elk Grove, CA and is an Urban Planner
Slice zucchini and drizzle with a little olive oil and grill on each side to a texture that suits your liking (we like ours on the firm side so we grill each side for no more than 2-3 minutes).
Bruschetta (prepare ahead of time and let chill for about 15-20 minutes)
Mix together chopped tomatoes, red onion, parsley or basil and garlic (amont depends on your love for garlic) and salt/pepper to taste.
Top the zucchini with a spoon full of the bruschetta, add a little grated parmesan cheese and serve.