Who would have thought that a little drive-in from Oklahoma would have taken America's retro taste buds by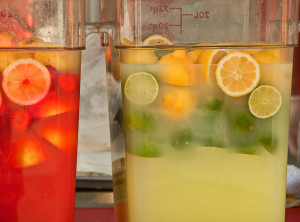 storm?  Is there anything more appealing that a Sonic Limeade on a hot summer's day?  After growing tired of driving 30 minutes to the nearest Sonic, I'm embarrassed to say that I made at least 10 runs at this recipe, using internet suggestions and tasting before I got this close. It's not 100% Sonic, but it's so close you don't have to drive there. Now to work on that Super Breakfast Burrito!
Ingredients
12 oz. Sierra Mist Diet Lemon Lime soda (you can try others–Sierra Mist seems very close to the real thing)
2 tablespoons diet  cherry syrup (available at BevMo or some grocery stores)
2/3rds of a fresh lime, sliced in half (2-1/3 slices)
1 packet Slenda
Crushed ice
Instructions
Fill a 16oz glass about 2/3rds full with crushed ice. Dump the ice in a blender. If you don't have an ice crusher, use the blender as a crusher (you may have to break up the ice with a hammer with the ice in a towel first)  then test the quantity by filling the glass 2/3rds full prior to adding the other ingredients. To the blender with crushed ice, add the soda, syrup, 1/2 a packet of Spenda, and squeeze the juice of 1/3rd of a lime into the mixture. Blend on the pulse setting, just enough to mix everything well and crush the ice a little more. Pour the finished limeade into the glass, squeeze the remaining 1/3rd lime into the glass and drop it in. If you need additional sweetening, add the remainder of the Splenda, and stir in quickly.
No more of those "emergency" trips to Sonic!