Shrimp have come down in price with the advent of modern quick freeze plants in Asia and South America. Most of the shrimp we get today are actually freshwater, farmed shrimp. It is not quite as pungent as a fresh prawn from the salt, but less caloric and very affordable.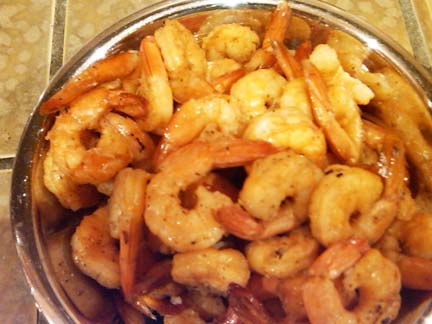 Surprisingly, comparatively little has been done with shrimp in the barbeque and smoking world. Most of the innovations come from Australia, and an obscure internet site from Down Under inspired me to start experimenting.
We talk a lot about brining on BBQ4Dummies. Brining adds flavor, improves texture, and in general makes many foods better on the Q or smoker. I've experimented a dozen times with brining shrimp, and I don't think the process is additive. It cannot last more than 30 minutes or the shrimp will become too salty, and the net result isn't worth the effort. The shrimp smoke beautifully with a simple seasoning—keep with us.
Have no guilt in buying frozen shrimp for smoking or even grilling. The flash freezing processes have been refined to produce nearly as good a product as fresh from the salt. I have two main sources, Wal-Mart and Costco. The Wal-Mart 21-30 count (count is approximate shrimp per pound) 14 oz. bags sell for $5. The product is slightly superior to what I've had from Costco, however Costco offers larger quantities, more selection, and competitive pricing. I buy the shrimp with the heads and shells removed, tail on. The seasoning works better than way.
To 14-16 oz of defrosted shrimp placed in a one gallon Ziplock bag, add the following:
Olive Oil–About 1/2 cup, enough to fully coat the shrmip. I use Consorzio Roasted Garlic Extra Virgin Olive Oil
almost exclusively in place of conventional olive oil. Compare the price here (affiliate link) to Costco–you might do better locally. Great product, and worth the money. Shake the bag well. Then add….
Bay Seasoning–a traditional seafood seasoning, been around for decades. Add a few shakes from the container, shake the bag, add more, until lightly covered.
Tony Chachere's Original Creole Seasoning-same as above with the Bay. Both Bay and Tony's should coat equally, and don't use too much as there's some heat in this one. As is Bay Seasoning, Tony's is readily available at most supermarkets, but I often get mine at the Dollar Store. I use it on nearly everything shellfish in various quantities.
You can add a squeeze of fresh garlic, juice of half a lime, and a half teaspoon of chili powder, even some curry powder or Tandoori spices for variations on the taste. I usually call it quits after the oil and two seasonings as the smoke is the dominate taste. These additions are more additive and noticeable when grilling.
Give the bag a few final shakes, making sure all the shrimp are properly coated. Refrigerate from 2-8 hours, no more. The shrimp will get soggy with the oil.
Prepare your smoker with a light wood, preferably cherry, apple, or pecan. These are small shrimp, and cannot take much smoke. Set the temp at 165 degrees if you have a variable temp, and if not make sure it's below 200 degrees. Smoke for 45 minutes. Remove the shrimp, they will look like the picture. Let them cool completely at room temperature. Serve at room temperature without sauce.
If you don't have a smoker, you can grill these but they will not have the same flavor. Try adding some wood chips to your charcoal fire.
You can use these shrimp as an appetizer, in salads, in an omelette, or as an entree. They are relatively inexpensive and after smoking will keep in the refrigerator for at least a week.
This is an excellent recipe for your experimentation. Try adding different seasonings and spices, even a marinade (no more than 2-4 hours). Consider using citrus, bourbon, beer, really anything you like and see how you do. Please report back!
Although an extra step in the preparation, this smoked Cajun shrimp recipe makes our Jambalaya Perfection recipe even better.
You might also like our Louisiana Crawfish Bisque Recipe.