These are the top selling BBQ smoker grills people are buying this year. Some smokers we like, and some we don't, and we'll tell you which ones are the best values.
New entry to the Best Selling BBQ Smoker list, the Weber Smokey Joe is affordable, portable, and the perfect grill for singles, couples, campers, and tailgating parties. I've had mine for about 20 years and don't camp or tailgate without it. For $40, you cannot find a better value in a compact, portable grill.

We can't he
ap enough praise on this Grand National Barbecue Championship Winner. Our hands down favorite smoker under $500 for beginners to pros. Read all about it in our review. It's also on our Best Gifts for Grillers list–probably permanently.

Big brother to the 18″ Weber Smoker Mountain, but with lots more grill area–equal to two 22″ Weber kettle grills. $100 more than the 18.5″. Handy if you have more than 20 hungry friends. Reviewed here, with the 18.5″ model.
A smoker with a full pound of wood pellets for only $35? Yep, but there's a catch, and that is that the A-Maze-N smoker doesn't cook your food, but flavors it by allowing all wood pellets to infuse smoke before cooking at outside air temperatures.
I love this device, and included its big brother, a 5 x 8 tray, in our Best Gifts for Griller
s list for 2015. What if you like your steaks seared, and grilled at a high temperature, but want some smoke flavor?  Simple. Put your steak on any grill without heat, light the A-Maze-N smoker near the steaks, and let it rip for 30-60 minutes. Now, grill your steak for that subtle smokey flavor you've been wanting. Smoke cheese, nuts, even vegetables without cooking. Highly recommended, and a brand new addition to the Top 10 list this year!
It's tough for us to like much from Char-Broil, due to generally low quality, but the incredibly low sub $150 price point for an offset smoker, where you can use wood, charcoal, or both for cooking low and slow and grilling is too compelling to ignore. Offset smoker designs are our favorite because it's easy to keep the temp down, and they hold lots of food too.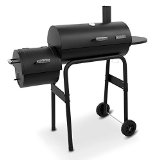 Foods cooked on an offset grill, especially for long periods of time, taste better than anything done on a gas grill, and this unit lets you smoke or grill, unlike a dedicated smoker. It's not fancy, it's not going to give you the longevity of a Weber, but for the price point it's hard to go wrong, especially for beginning BBQers.
My first wood fired dedicated smoker was a vertical smoker. The main advantage over the horizontal barrel smoker is they are much more compact, plus you can hang meats in them easier.
The Dyna-Glo vertical smoker will hold 100 lbs. of meat, and has six adjustable grates. They're small though–12″ x 12″. That can present a problem for a larger turkey, and you'll either have to hang your ribs or curl them up to fit the space.
Weighing in at 70 lbs., this unit is fairly heavy duty for an import. My main caution

would be that with vertical smokers you may find yourself rotating food between the grates during your cook, as the top grate position will be hotter than the bottom grate.
I have mixed feeling about vertical smokers; honestly, I would probably not get another, however if your space is tight and your capacity needs are large, for under $200 this one is worth a look.
Masterbuilt's newest release features a viewing window, a built in meat probe, and will smoke up to 275°. Masterbuilt is killing the competition with their smokers at great

price points. This one is $300, but it includes a cover and a recipe CD.
I used to have a tough time recommending Masterbuilt, but they heard the consumer complaints and have reacted with a far superior line than just a few years ago. If you want a smoker that will tell you when your meat is ready, and with plenty of capacity, give Masterbuilt a hard look. We are selling the hell out of these units this year, and so far not one complaint.
This is an accessory for Masterbuilt digital smokers, and with temperatures as low as 100°, allows you to cold smoke (smoke flavor) meats, cheese, bacon, whatever you want to infuse with smoke.
Cold smoking is finally becoming more popular, as people realize that the risks

from food pathogens are minimized if you cold smoke for less than two hours, according to the USDA. It is a method I use mainly for cheese, nuts, fish, and steaks, and I have done it for over 20 years without incident. Once you learn how to cold smoke properly and safely, it may become a routine method, as it has with me.
At around $60 this is a great buy, because it utilizes the wood chip feeder in Masterbuilt's digital smokers, and it is a great gift to include with a Masterbuilt digital smoker, or as a new accessory.  If it was much more, I'd say stick with the Amazen Smoker above that accomplishes the same thing for less money, however this is so convenient and easy to use that for a Masterbuilt owner, this is the stuff!
Bradley products aren't what they used to be. For the $250-$300 price range, we can find
better values. You need special wood chips (called pucks) for fuel too, and we don't like to be locked into a manufacturer's price controlled market. Save $100, and get only slightly lesser quality with the Masterbuilt Smoker without a window (like this Bradley).

A great price point for a full range electric smoker.  With a digitally controlled temperature range from 100° to 275° you can cold smoke, smoke flavor, or BBQ with this sub $200 unit. This is our top choice for an electric smoking unit in this price range, and recommended in our Top 10 Gifts for Grillers 2015 list.
Guide to Buying A Barbecue Smoker
We receive a LOT of email from frustrated shoppers, asking for recommendations on smokers. We answer all emails, and are glad to help. The first question is always, "tell me what you plan to smoke."
"Smoking" and "Barbecuing" are often used interchangeably, and although confusing that's our American vernacular. To me, "smoking" is smoke flavoring, like for smoked salmon or jerky, and those are at temperatures from 150-185°F for hot smoking, and 80-100°F for cold smoking. Most beginners don't cold smoke, and there are certainly risks with that process, but nearly everyone wants to be able to smoke some salmon, shad, trout, or do some jerky. For smoke flavoring an electric unit is the best choice.   You have more control than with charcoal or gas, and it's easy and inexpensive.
"Barbecuing" is low and slow cooking, from 225-275°F and for that charcoal or wood is always the best choice. You get flavor and flexibility in process and it's much less expensive than gas.
So, what to do?  My opinion is you need two separate units–one for smoke flavoring, and one for barbecuing, unless you want to drop around $800 on a pellet grill, like the Traeger. If you're only going to do some occasional salmon or jerky and don't mind a fixed temperature of 165°F which is fine for most smoke flavoring and drying, then here's a unit I'll always recommend, although it never makes the top seller list on Amazon. I grew up with it in Oregon, and it's still hard to find a back porch without one there. It called the Little Chief Front Load Smoker
. It will cost you less than one fifty hundred bucks, and will hold up to 50 lbs. of meat. Trust me?  This is all you need for a fixed temperature smoker, although the new digitally controlled Masterbuilts are more flexible. It's a simple sheet aluminum box with a heating element and will last you until it gets so nasty with residue you didn't clean (guilty here!) that you'll pitch it in 10-15 years and get another.
Keep in touch, and good 'que to all!