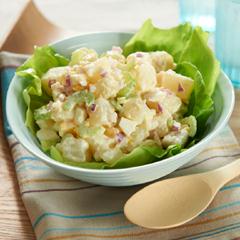 Straight from the back of Best Foods/Hellmann's Mayonnaise Jar,which is exactly the way my mom used to make her potato salad,except she never put in celery, and always put in bread and butter pickles.
1 cup mayonnaise
2 Tbsp vinegar
1 tsp sugar
1 tsp salt
1/4 tsp pepper
4 cups cubed, cooked potatoes (5-6 medium)
1 cup sliced celery (SEE NOTE ABOVE:  Substitute 1/2 cup diced bread and butter pickles)
1/2 cup chopped red onion
2 hard cooked eggs, chopped
Combine the mayo, vinegar, sugar, salt and pepper.  Stir in remaining ingredients.  Cover and chill.  Makes about 5 cups.