One of the underlying goals of BBQ4Dummies.com is to produce healthy dishes with low to moderate calorie and fat content. This isn't one of them!
The first time I had barbecued green beans was in a small BBQ joint in Fairhope, Alabama, on Mobile Bay. Fairhope is one of the most beautiful small Southern towns you'll ever see. We stayed at the Marriott on the Bay, but ate from the tiny BBQ shacks often located in gas stations or near a small store. The first night we arrived I wanted BBQ,
It was late on a weekday evening and everyplace we saw was closed. I was walking out of a small store where the owner had volunteered to make a few calls to see if any place was open, with no luck. Out of the shadows, an older black man appeared, and said he had overhead me and knew a great place and they'd "be proud to serve you."  Already blown away with the incredible hospitality and friendliness in Fairhope, I followed him to a tiny little shack with a smiling woman and a limited menu, but with a willingness to please. The ribs were delicious, but the BBQ beans are what I remember the most.
After several tries over a period of a few years, I think I've got it down. Serves 2-3
1/2 lb.-ishfresh green beans
4 strips of bacon cut in 1" sections
1 tsp-ish Worchestershire
Fresh cracked black pepper—generous
Lawry's Seasoned Salt—generous
3-4 drops Liquid Smoke
Start with fresh green beans. I never buy fruit, produce, fish, or meat without a "freshness test," and for beans, it's simple. Hold a thumb and forefinger on each end of a bean, and bring them together. If the bean snaps, you've got fresh produce, if not, they are old. Once you've got your fresh beans, you'll need to remove the pointed ends. I pinch them off, but you can use a knife. Then, cut them in half.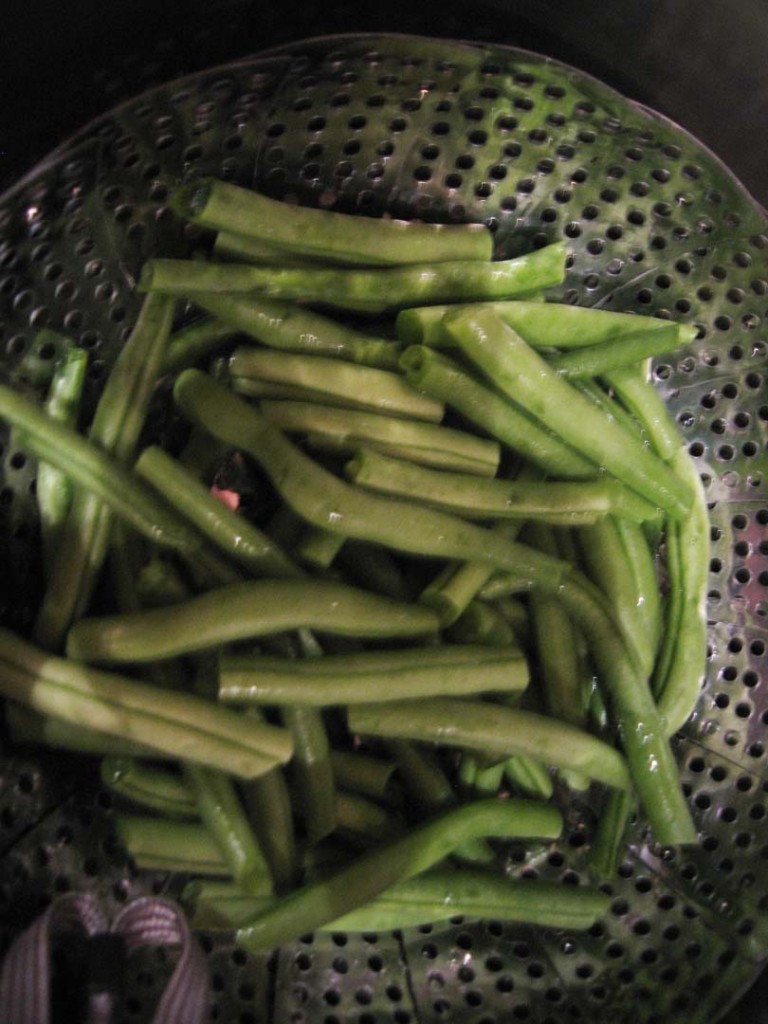 Next, the beans go into a steamer. You'll need a pot at least a couple of inches taller than your steam basket, and just a little wider. Put in just enough water to almost but not quite touch the bottom of the steam basket, cover pot, and steam until the beans are beyond al dente, or fairly soft. It will probably take 15-20 minutes once the water starts boiling. Be careful you don't boil the pot dry and burn the pan!
In the meantime,  you'll need a medium size frying pan. Start with the bacon, cutting it in 1″ strips. When you start the frying process, it will look something like this.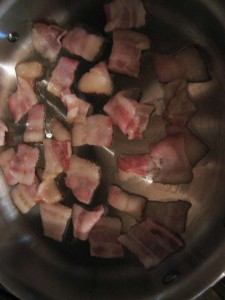 Cook the bacon down to medium done, but do not drain the fat. You will do that later; the rendered bacon fat adds a beautiful flavor to this recipe, and seeing as how you've already committed youself to a really  high fat content side dish, why worry about a little more fat?  Once you have the bacon where you want it, add the other ingredients.
By this time, your beans should be pretty well done. Now, using a set of tongs, carefully add the beans to the rest of the ingredients in the frying pan. Cut the heat to low. You don't want to overcook; you want everything to come together in a singular, strong flavor that you're now smelling. Cover the pan, and let it simmer for one hour and have the rest of your meal ready to serve by then.
When ready to serve, grab the frying pan handle, remove the lid, and slowly tilt the pan in the direction of your grease recepticle. without losing the beans or bacon, slowly drain out all the greasy residue that you can. You're done.
Just recently we enjoyed this recipe again, pairing the barbequed green beans with a smoked New York Steak and a fresh Idaho spud. We served it with a bottle of  Forest Glen Shiraz, a wine that taste like about $15 and cost $1 a bottle from the Dollar Store. I bought one, tasted it, went back and cleaned them out.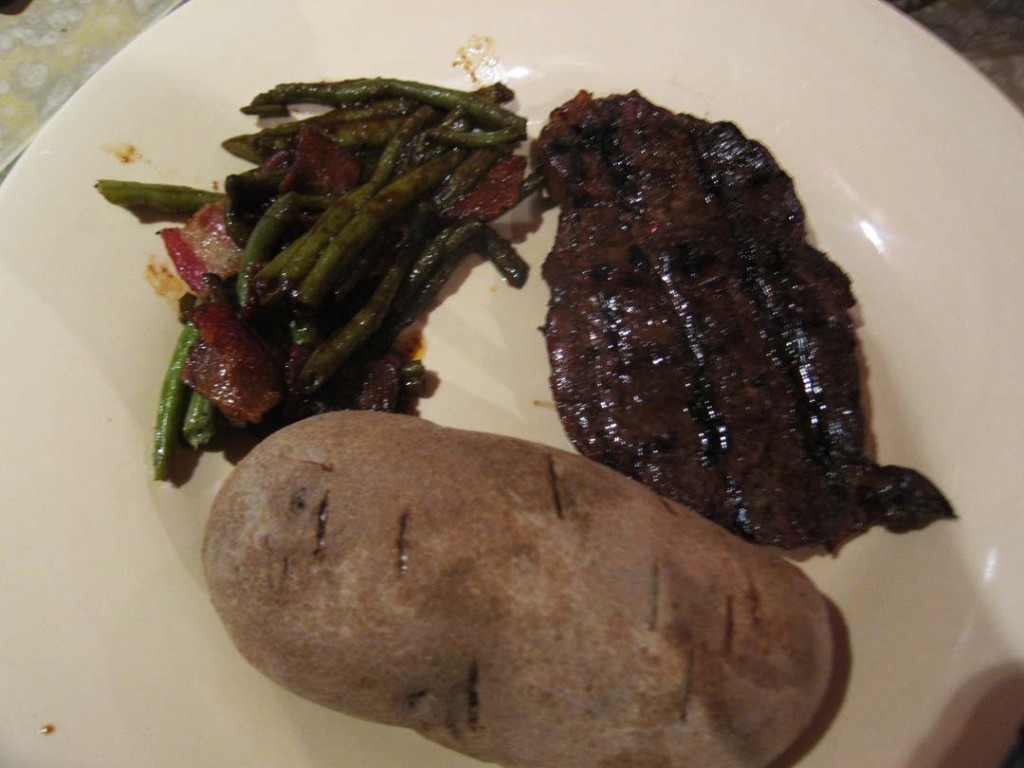 We'll tell you how to make a steak better than Morton's later on.