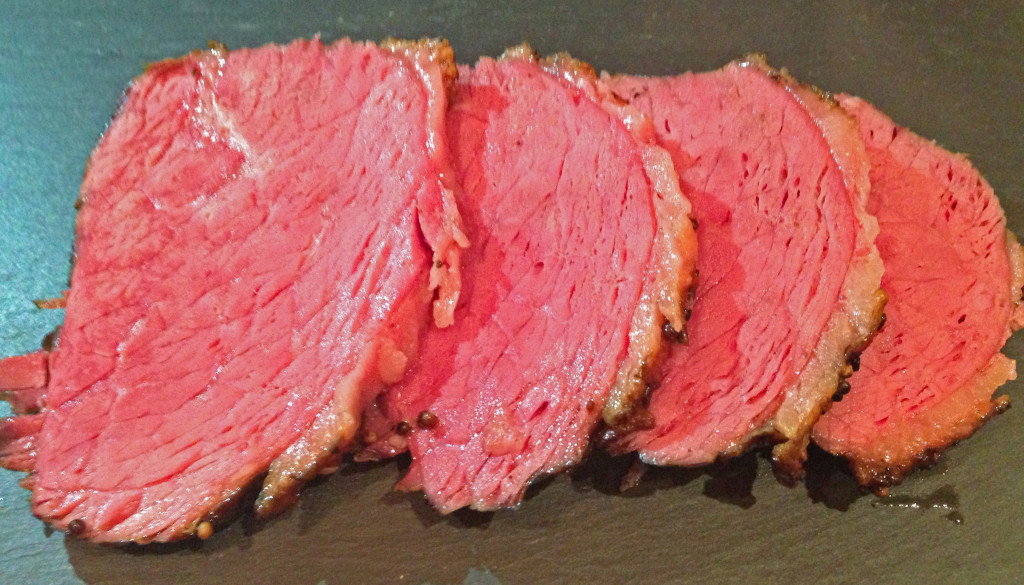 It's St. Patrick's Day dinner for us, and we're serving the not-so-traditional version of corned beef. We love it barbecued over some white oak. Read on to see how you can turn out the best corned beef brisket ever. Barbecued corned beef is better than the traditional boiling. This is not my opinion, it's my fact😉
First, a little background. Both corned beef and pastrami start with a brisket of beef. To make corned beef, the brisket is cured in a strong brine with seasonings. You can do that yourself, but we want this easy so we simply buy an uncooked corned beef  from our local grocer. This cook was 3.68 lbs and cost $2.99 per. For that price, I'm not going to mess with the two week brining process.
Making pastrami is easy too, as you start with the corned beef and instead of barbecuing at 250 degrees as we do for corned beef, we smoke it at 165. More on that later as we have a killer recipe for pastrami too.
Preparation for Barbecued Corn Beef
That hunk of brisket in the cryopak is way too salty, so we need to soak some of the salt and commercial additives out. Simply put your brisket in a large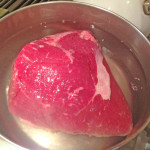 pot, add water to cover, and simmer on high heat below boiling for 45 minutes to an hour. Then, rinse the meat well under cold water, pat dry, and add seasonings. Most cured corned beef briskets come with a seasoning pack, and those are fine. I add some fresh ground pepper and a couple of extra pinches of coriander,  and you're ready to put the beef to the heat.
The Barbecuing Process
Corned beef acts better at higher temps, so we want to keep the barbecue at 250-275 degrees. Oh, you can use your Weber BBQ grill too–just watch the temp and don't let it get over 275 and of course grill the meat as far away from the heat source as possible. Place the meat fat cap up.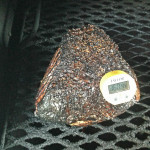 This is a quick cook, largely because of the salt curing. Here's a picture of our Ugly Waterproof Commercial Grade $18 (or less) thermometer that we reviewed here after one hour of cooking. We're close to our low range target of 165 degrees, but we're looking for around 180 for the finished product.
At this point (after about 25 minutes per pound) we wrap the corned beef brisket in foil to preserve the juices and steam it in the moist heat. USE YOUR BARBECUE GLOVES. That fat cap is sizzling hot and will burn you if you aren't well protected. Checking back in only 45 minutes for a total of 1:45 cooking time, we saw the 180 degrees we were looking for, and promptly pulled the corned beef from the barbecue.
Resting the Meat
Many reading this were following me in my Examiner.com Outdoor Cooking column, and are probably tired of my screaming about how incredibly important this setting process is.  Eighty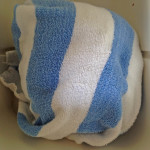 percent ignore it, and serve meat "hot off the grill."  BIG mistake. The juices are all pushing against the exterior of the meat, trying to escape the internal heat. Double wrapping in aluminum foil, then in an old beach towel and letting it set in a cooler  for two to three hours will triple the final taste and texture quality. I guarantee it, but ask your guests for proof.
Serving Your Barbecue Corn Beef Brisket
After two hours we served our corned beef. This evening we simply added baked potatoes and a nice caesar salad that we got pre-packaged with great dressing, croutons, and fresh grated parmesan cheese for only $8.00 for a huge tray from Costco, but this goes very well with JR's Smoked Rice and our Barbecued Green Beans. For an easy appetizer, try Darcy's Grilled Zucchini Bruchetta. For your beverage, try my lowbrow preference toward beer, and make it Racer 5 India Pale Ale. It's worth looking for.